Bone mineral densitometry (BMD)
What we do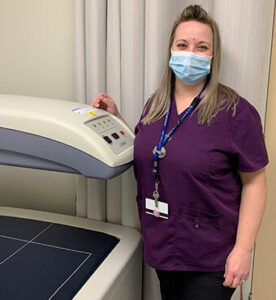 Bone densitometry examinations are performed by specially trained technologists. Bone mineral densitometry is used to measure the amount of calcium and other minerals in your bones using special X-rays.
Low bone density, called osteoporosis, is a condition in which there is a decreased density, making bones fragile and more likely to fracture.
Low bone density is most often associated with age and family history, but can also be caused by certain medications that cause bone loss (e.g. steroids).
What patients can expect
The examination will require you to lie on a table. An X-ray machine will be positioned over the part of the body being imaged, such as the spine and hips. If scanning is only required of your wrists and arms, you may be asked to sit.
Examinations are typically performed on bones that are most likely to break when fragile, such as the lower region of the spine (back), the upper segment of the femur (leg), hip bones, wrist and forearm bones. The procedure is painless and usually takes less than 30 minutes.
Who we see
The risk of osteoporosis increases with age as bones become weaker. Exams are usually ordered for:
Patients with a family history of the disease.
Post-menopausal women not taking estrogen supplements.
Patients with a personal history of fractures.
Patients with type I diabetes, liver or kidney disease.
Patients who are taking medications that decrease bone density.
Locations that offer this service
Please note:
Patients are notified by telephone and/or appointment letter for all services that require an appointment.
How to prepare
Instructions for preparation specific to your test (or procedure) will be included in your appointment letter. The doctor who ordered your examination may also give you information about the required preparation.
Please arrive 15 minutes prior to your appointment to register for the procedure.
If you are taking calcium supplements, you may be asked to discontinue them for the day of the procedure.
Be sure to tell the technologist if you have had any oral contrast or nuclear medicine tests performed recently.
Test results
Your examination will be reported by a radiologist or nuclear medicine physician and sent to your doctor within 15 business days. Please check with your doctor's office to find out if your report has been received.
Benefits
Bone densitometry examinations are the best method of diagnosing osteoporosis in the majority of cases. Early diagnosis of osteoporosis is important for preventing fractures and determining appropriate patient care management. Bone densitometry is also very useful in assessing patients who are currently being treated for osteoporosis to determine if changes need to be made to their treatment plan.
Risks
A small dose of radiation is used to produce bone densitometry images, almost one-tenth of the amount used in a standard chest X-ray. No other risks have been identified.
Safety precautions
If there is a possibility that you could be pregnant, please inform your doctor and the technologist performing the examination.