Positron emission tomography (PET Scan)
What we do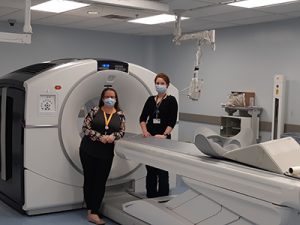 A positron emission tomography (PET) scan is a simple and non-invasive medical imaging procedure that takes pictures and measures the metabolic activity of cells inside the body. It provides information about how organ systems function and how well a patient's treatment is working.
A PET CT scan is especially useful in the diagnosis and management of certain types of cancer, neurological disorders and heart disease.
One of the most commonly used radiopharmaceutical is fluorodeoxyglucose, generally referred to as FDG of F-FDG for cancer diagnostic. Patients are injected with FDG in their arm or hand with a small needle before the exam takes place. Other types of radioactive materials can be used to evaluate other illnesses. Patients can also receive a PET scan that uses the radiopharmaceutical Gallium Dotatate (68Ga-Dotatate); this locally prepared radiopharmaceutical is used in PET scans performed for the diagnosis and management of neuroendocrine tumors (NETs).
Eastern Health operates a PET/computed tomography (CT) scanner in its Nuclear and Molecular Medicine facility. PET/CT imaging combines two tests into one and provides a unique representation of what is happening in the body.
The CT portion of the exam provides structural information about human anatomy by taking pictures in the form of X-rays of bones and other parts of the body. By combining PET and CT pictures, a radiologist can get a better sense of what is happening inside the body. Together, the two scans have been shown to provide more accurate diagnoses than the two scans performed separately.
How to access this service
To receive a PET/CT scan, a referral from a specialist is required.
Locations that offer this service
How to prepare
Your PET scan exam will be completed at the Nuclear and Molecular Medicine facility in St. John's. Parking in gated lots is available. Please arrive 15 minutes before your appointment. If you arrive late, your appointment may have to be rescheduled.
Preparing for the PET scan can vary depending on the area of the body being examined. Your appointment may take up to two to two-and-a-half hours from arrival to completion.  Please arrive on time as the radioactive tracer (FDG) is ordered especially for your appointment and may not be usable if you are late.
Benefits
PET imaging offers unique insights into the human body that enable physicians to deliver more personalized treatment. PET imaging is less invasive compared to biopsy or exploratory surgery. It also:
Provides more accurate information that may not attainable with other imaging technologies (X-ray, CT scan, MRI).
Identifies disease in earlier stages.
Determines the exact location of a tumour, often before symptoms occur or abnormalities can be detected with other diagnostic tests.
Benefits of a combined PET/CT scanner
Greater detail with better accuracy.
Less room for error.
More patient comfort and convenience.
Patients who require two types of exams (CT and PET) will only require one appointment.

Since the PET and CT scans are performed at the same time, the patient does not have to change positions.
Risks
Molecular imaging uses very small amounts of radioactive materials (radiopharmaceuticals) to diagnose and treat disease.
Nuclear medicine procedures result in relatively low radiation exposure to patients. Precautions are continually taken to minimize the amount of radiation necessary to complete the procedure.
Safety precautions
Allergies
Allergic reactions to radiopharmaceuticals may occur, but are extremely rare and are usually mild. When preparing for your appointment, please inform the technologist of medications you are currently taking or if you have any known allergies to intravenous contrast material, iodine or seafood.
Side effects
Some patients may experience slight pain and redness from the radioactive sugar injection called fluorodeoxyglucose, also known as FDG. However, these symptoms often resolve very quickly without any complications.
Pregnant or breastfeeding women
Women should inform their doctor or radiology technologist if they may are be/are pregnant or breastfeeding. It is recommended that breastfeeding women pump breast milk before a scheduled PET scan appointment. Breastfeeding can safely resume approximately two hours after a PET has been completed, which is when the PET radiopharmaceuticals are no longer present in the body.
Frequently asked questions
Q: What precautions do I have to take after the test? Can I go out and carry my daily routine with family and friends?
A: PET is a safe procedure for which the patient will be in hospital for three to four hours. There are no residual effects or activity restrictions and can carry out their daily routines upon discharge from hospital. Patients are advised to take normal medications unless they have been instructed otherwise. Patients with diabetes will be given special instructions.
Q: What are the benefits of this FDG PET test compared to other modalities CT, MRI, ultrasound?
A: PET gives physicians insight into the many different processes that occur in the body which otherwise would not be available from other tests. This type of testing is most commonly used in many different types of cancer to allow for a more sensitively identify sites of disease, assessment of how it responds to therapy and to determine whether cancer has returned.
Q: How is FDG administered and will there be irritation/discomfort afterward.
A: FDG is administrated by intravenous injection and no adverse effects are anticipated. Patients will be monitored by research staff throughout the process.
Q: How loud are PET scans. I had an MRI, is it anything like that?
A: Unlike MRI scanners, a PET scan is not a loud procedure and is more like a CT scan.
Q: What if I am claustrophobic?
A: Patients should discuss potential claustrophobia with their doctors prior to arriving for their appointment. There are processes available to minimize discomfort. However, if patients continue to apprehensive when arriving for their appointment, please advise staff so that they can assist.
Q: How do you accommodate sacral nerve damage or other back issues?
A: Patients should advise of their condition upon arrival to the hospital. Knee propping procedures as well as specialized cushion are available to make patients feel comfortable during the scanning process.
Q: Do I have to fast before my test.
A: Patients will be instructed for how long to fast when their appointment is scheduled, normally for 6 – 12 hours before a PET scan appointment. During this time, patients should not have anything to eat or drink, except for plain water. Chewing gum, eating a breath mint, or drinking coloured or flavoured water are also not permitted, as these items will interfere with FDG, resulting in an altered PET scan.
Q: How long does the test take?
A: Patients can expect to be at the facility for two to three hours. Patients need to arrive 10 minutes prior to your scheduled appointment time.