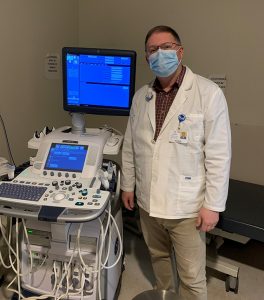 An ultrasound is performed by a specially trained technologist called a sonographer. It uses high-frequency sound waves to transmit images of internal organs and other fluid-filled structures of the body.
Sound waves are sent and received by an instrument called a transducer. The transducer is used to scan areas of the body. Sound waves bounce off solid internal objects producing images of the internal structures on a computer screen.
Ultrasound is used to:
Assess fetal development.
Detect internal injuries, organ abnormalities, and tumors.
Evaluate the internal functioning of the heart, blood vessels, and arteries.
Guide the insertion of needles and small instruments in a variety of procedures such as biopsies.
The procedure
The patient lies on an examination bed and a water-based gel is spread over the area to be imaged. The technologist uses a transducer (a small handheld device) to acquire images by moving the transducer over the area of the body being examined. Images are shown in real-time on a computer monitor, which is sometimes visible to the patient.
The ultrasound procedure takes approximately 30-45 minutes to complete. The procedure is painless, but patients may experience discomfort if a full bladder is required to exam the pelvic area.
Locations that offer this service
Please note:
Patients are notified by telephone and/or appointment letter for all services that require an appointment.
How to Prepare
Preparation will vary by procedure. Instructions for preparation will be included in your appointment letter. The doctor who ordered your examination may also give you information about the required preparation.
Depending on the area to be examined, you may be asked to drink several glasses of water in the hours before the procedure so that the bladder is full. You may also be required to avoid certain foods such as fatty foods before the procedure or to fast for eight to 12 hours. This information will be highlighted in your appointment letter. Before the examination, patients may be asked to remove all jewelry and to wear a gown.
Test results
Your examination will be reported by a radiologist or nuclear medicine physician and sent to your doctor within 15 business days.
Please check with your doctor's office to find out if your report has been received.
Benefits
Ultrasound is a very good option for acquiring medical images because it is non-invasive, cost-effective, produces images in real-time and does not require the use of radiation.
Risks
There are no known harmful effects of ultrasound imaging. There are no known risks to pregnant women.